If you want more website traffic and sales you can't just slap something together and expect good results. If you target good keywords your target market will be able to find you, but the key to a successful Internet business isn't just lots of traffic.
To be successful online you need targeted traffic interested in what you have to offer.
If your site isn't full of quality content that provides a solution, your visitors will simply click away.
Make Your Site Sticky – provide info rich content
A sticky site is a site where visitors spend time gathering useful information. People who surf the Internet have notoriously short attention spans and if you can't capture their interest in 30 seconds or less, they will move on to another site.
Bear this in mind when you design your site and when you update it. Make sure your site is easy to navigate; if it takes too long to find what they are looking for and they have to dig too hard, they won't stay on your site for long.
Update Your Content Regularly
Your vistors are unliely to buy on their first visit, research shows that they are need to visit your site a few times before decding to buy. One way to keep them coming back is to update your site regularly. Give your customers the option of receiving notification every time your site is updated.
Once you have their email address you can notify them about special offers or new products. What can you offer your vistors to persuade them to give you their email address. What do you have that they need? It needs to be something with perceived value.
Link Your Web Pages To Each Other
Increase the chances of the search engines finding all the pages your site by linking your web pages. This gives you the opportunity to link to your pages using keywords – a valuable key to better search engine rankings – and it helps your vistors to easily find relevant pages, and that will result in them spending more time on your site.
Minimum Article Lengths
I suggest that you post articles of 400 words or more on article directories and on your own site. With shorter articles, it can be difficult to include enough keywords to be rankd highly by search engines and have the article make sense while providng a valuable snippet of information.
Pack Your Articles With Useful Information
Your visitors are looking for information. Make sure that you give them information rich content. You need to capture their interest right away, otherwise they will be gone from your site with the next click of the mouse. If that happens, they are unlikely to come back again. Give them a good reason to stay and revisit by demonstrating that your site has what they need.
Invite Your Site Visitors to Bookmark Your Site
This sounds basic but if they spend a lot of time online, the websites they visit tend to run together. It's difficult to remember exactly where you saw an interesting article or valuable of information. Because you want to turn your visitors into paying customers, you need to do everything you can to encourage them to bookmark your site and visit often.
If you provide your visitors to with quality content and update your site regularly, you will find it easier to get regular traffic to your site and turn your visitors into paying customers.
I'd like too offer you a free Ebook to help you create quality content that presells your visitors.
Just click on Make Your Words Sell to download immediately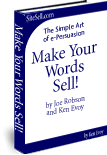 Have you downloaded your free guide to getting more vistors to your website? Here is the link again. 
http://www.seoissimple.com/howtogetmorevisitorstoyourwebsite2.html
And do remember to bookmark this site so that you can easily find all the valuable resources I will be adding.